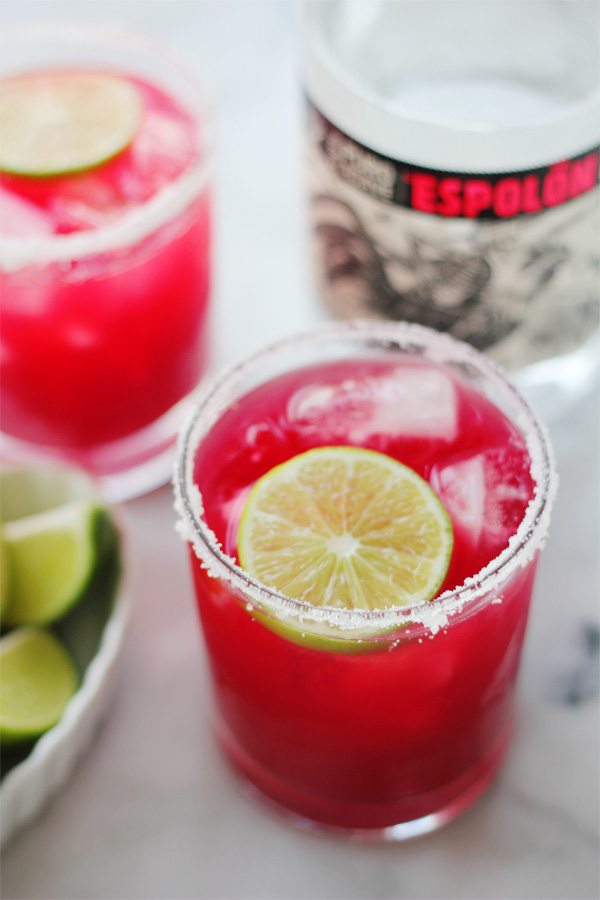 I swear the only thing keeping me going right now is citrus. It snowed again  last night in NYC. On top of the current miserable frozen snow. I should really say ice, because that's mostly what is covering the ground right now. I relish a sidewalk or intersection that isn't covered in ice these days! It's the small things…. clearly.
So while I wait for it all to melt, I'm piling my grocery cart high with oranges in all forms (Cara Caras are my fave), pineapple, and Meyer lemons. I have this Meyer Lemon Focaccia on my must make list. Isn't it stunning? It's kind of how I feel about these margaritas. That color! When I cut into the oranges I literally gasped. The pulp looks like jewels, don't you think? The juice itself is a deep ruby red and then takes on a pink hue when mixed in the drink, perfect for a V-day celebration. Speaking of which, I totally got in the spirit this weekend with my first "nail art" experience. Twenty eight years old and hot pink hearts on my nails! #loveit
Zesty Blood Orange Margaritas
Recipe for 1 drink
1.5 oz tequila
1/4 cup plus 2 tablespoons fresh blood orange juice
1.5 tablespoons fresh lime juice
1- 1.5 tablespoons simple syrup (will depend on the sweetness of your oranges)
ice cubes
salt
Run a lime wedge around the rim of a tumbler or short glass. Cover a shallow plate with a thin layer of salt. Dip the glass in the salt, moving it around so it's heavily coated. Carefully fill the glass with ice.  Mix liquid ingredients in a measuring cup or cocktail shaker and pour over ice. Serve immediately.