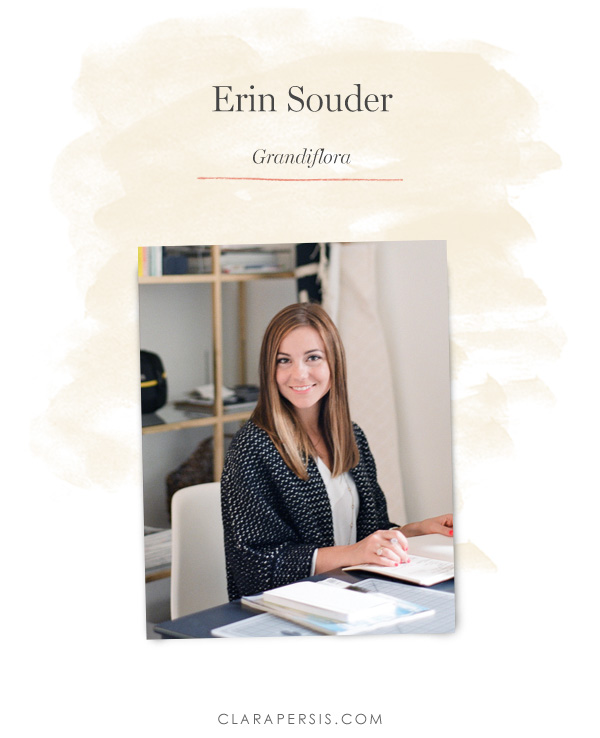 It took merely a single glass of red wine in a hotel bar downtown last fall, for Erin Souder and I to realize we had far more in common than just blogging and entrepeneurship. Founder of the stunning home decor line, Grandiflora, and the voice behind the ever impressive blog, House of Earnest, this girl's got style, talent, design sense, depth, and drive like noneother. Even before launching this series earlier this year, I knew I'd be featuring Erin, as her story and the method by which she launched her own décor line (while still managing her blog and a full time corporate job!) is truly noteworthy.
Learn how she executed on just that, as well as the methods by which she managed the financial risk of venturing out on your own, how she specifically designs each piece to market itself through its versatility, and more below!
When did you launch your business? What were you up to before that?
I launched Grandiflora in late 2013 after spending 7 years working in product development and design for the apparel company Abercrombie & Fitch.
Was there any way that you leveraged your time or job before you launched your business, to come closer to venturing out on your own?
I simply worked around the clock!  Every off hour was an opportunity to push my own ideas forward. It's so important to be at a paying job as long as humanly possible in order to continue raising capital, but when I could no longer give 100% towards the launch of Grandiflora, I knew It was time to give it my full attention.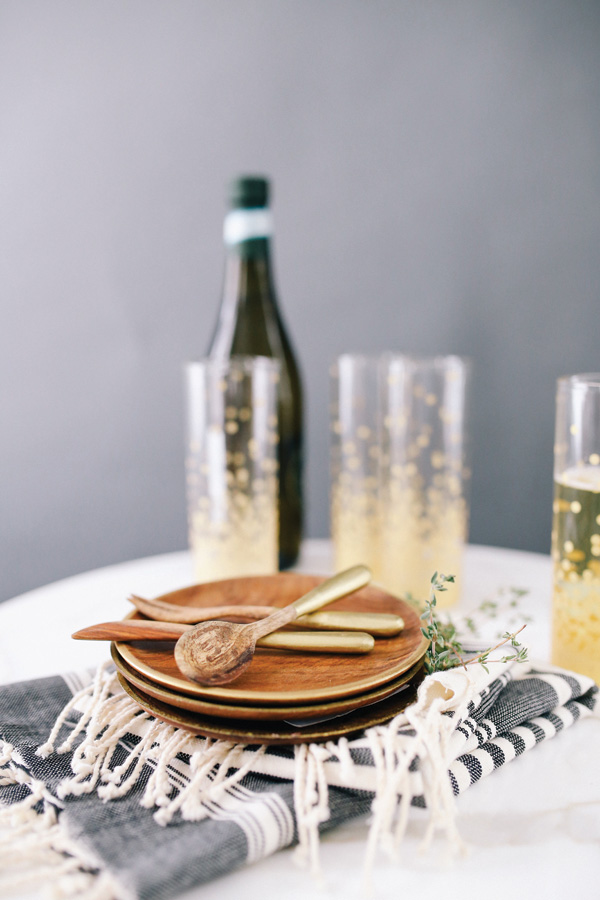 There's often no perfect or ideal time to make the jump to self employment. When was your "aha" moment when you officially decided to take the plunge and make the career switch? 
I worked both in the corporate day job and work towards the creation of my own brand for about 9 months before it actually started taking a toll on the new business.  I couldn't be at photo shoots during the day, I couldn't get all of the work done in my off hours anymore, and I couldn't be in the warehouse to ship out orders.  I knew that if I wanted to give my dream an honest shot, I should give it a fighting chance and throw all of my energy into it.
Venturing out on your own doesn't come without financial anxiety and risk! What tips would you give to those looking to work for themselves to build in some runway and manage things financially as they build up their business?
My biggest piece of advice would be to find odd jobs or freelance opportunities in your field.  Just because you quit your day job doesn't mean you have to quit working. I have taken up writing for other blogs, freelancing my styling work, and now consulting as ways to continue making an income while still giving myself the flexibility and time to work on Grandiflora. Oddly enough, the consulting has opened a lot of doors to even further Grandiflora.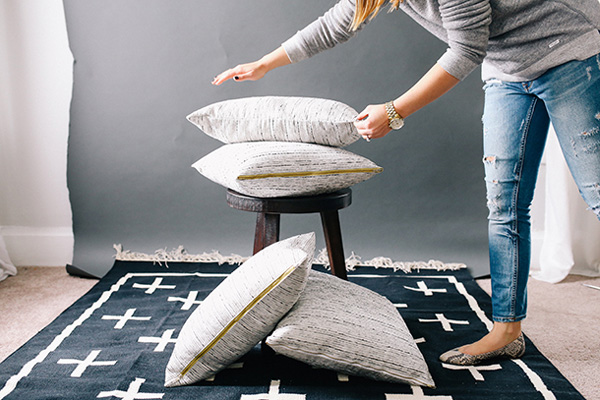 How did you market yourself and your business in order to lock in those first clients?
My pieces are versatile which enables customers to buy less, and use their pieces more. I've made a point to market Grandiflora that way both in my look book and on my website. A tapas plate can be used as a catch-all on an entry table or as a candle holder, or even as a soap dish.  Hammam towels can be used as napkins, guest towels in the bathroom, or for drying dishes in the kitchen   Good, neutral design can be used around the home and allows all of our customers rooms/pieces to reflect the same style.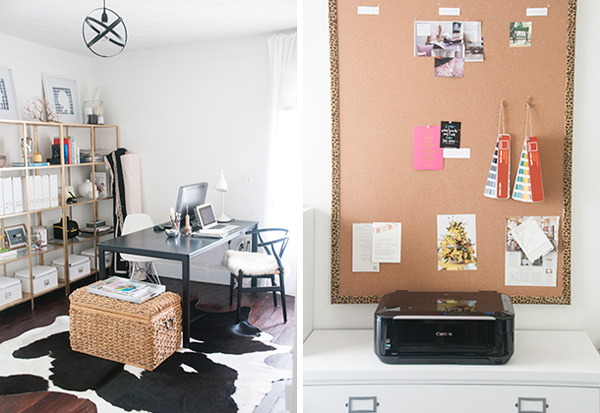 Understanding there may be no 'typical' day, tell us about what your day-to-day looks like now…
I also run my Blog, House of Earnest, and I consult businesses and individuals looking to manufacture their products overseas, so I balance all three endeavors, but the great thing is that they're all 100% mine to plan.  I usually wake up and hop on email for a few hours.  I can usually catch my factories in India to chat about a product design before they leave for the day and I can get caught up on outside projects and needs for blog sponsors.  Then, I run any errands required for the day - shipping Grandifora merchandise, buying supplies for my next DIY, or meeting with a consulting client.  Afternoons are typically reserved for creating.  I design new products, work on blog posts, and generally try to get my creative juices flowing. Early evenings I edit photos, create blog posts, or email product design comments to the factory for them to read later that night. I try to get this all done by 7:30pm to have a cocktail and make some dinner with my husband.
What's the biggest lesson you've learned in doing business for yourself? What's the one thing you'd tell anyone wanting to work for themselves?
Be open to new ideas and don't shut off opportunity because it doesn't look like what you envisioned. The world has a way of working things out and if you're too narrow minded, you'll miss out on so much.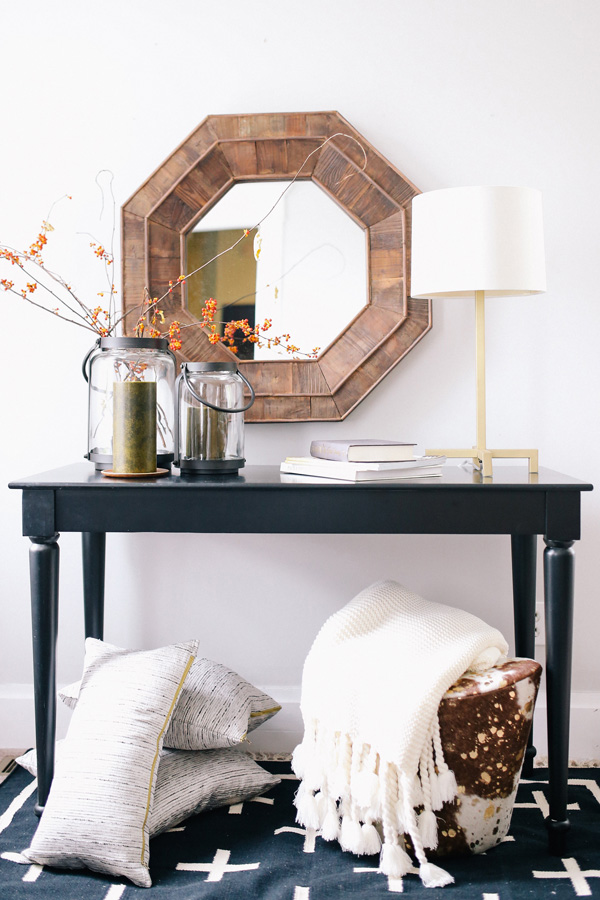 What are you most looking forward to this year?
My first goal for Grandiflora was to create it, and this year, I embark upon my second goal which is to grow it.  I look forward to seeing the line in other shops, growing the assortment, and expanding our reach!
Best way to unwind after a stressful day:
Wine on the patio with my husband and our dog.
Currently on your bookshelf:
The Fault in our Stars and Good to Great
Thanks, Erin! Now get yourself back to NYC so we can move on to dinner and cocktails….