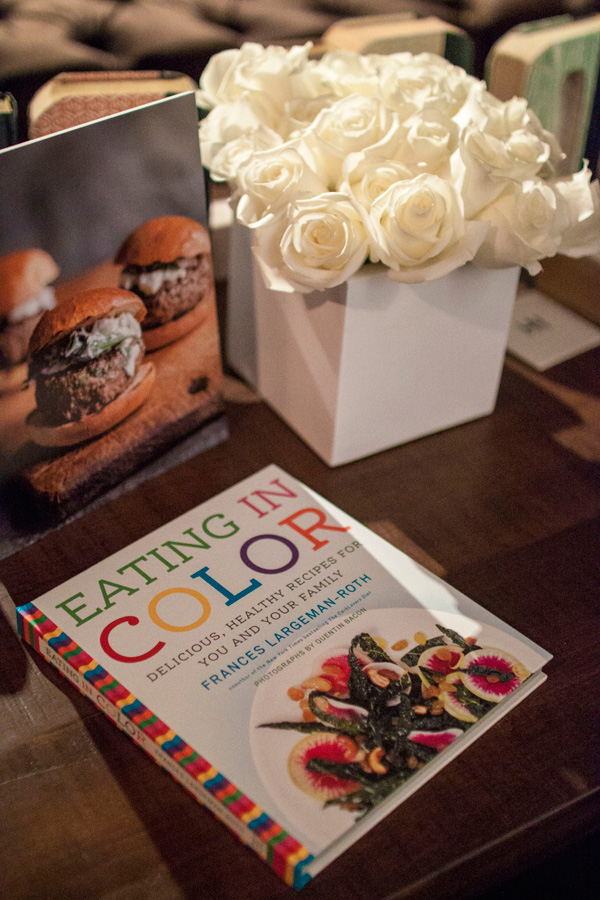 One of my blog goals this year is to bring my work a little more to the forefront, and give you guys a taste of what I actually do day in and day out. And that effort starts today (!), with a peak into an event I assisted with a few weeks back in celebration of Frances Largeman Roth's newest cookbook, Eating in Color. This was such a fun event! Attendees gathered in the gorgeous event space of one of NYC's chicest co-working spaces, and nibbled on all sorts of mango and lamb related goodies, courtesy of the National Mango Board and Tri-Lamb Group. Think amazing mini lamb burgers, lamb chop lollipops with mango salsa, individual mango smoothies, and mini mango cupcakes. The food for the event was incredible, which completely echoes the recipes and content in Frances' new book. In fact those buckwheat flapjacks I made a few weeks back? Straight from her book!
I specifically wanted to share this event today, because there's an awesome giveaway and Twitter party taking place this week in celebration of the book and eating in color with mangos.  My sweet friend Tina of Carrots 'N' Cake is hosting the giveaway which includes… wait for it…. a Vitamix!! Yep the grand prize winner will receive a brand new Vitamix, along with a copy of Frances' book and a box of mangos. There are also multiple second prizes, so be sure to check out her blog today for all the details on how you enter. Ya'll know how much I'm loving my Vitamix, so do yourself a favor and enter!
All photos courtesy of Salt & Co.