I've said it time and again, but one of the best parts about my job is all the wildly creative people I get to meet. And Sogi, of Sogi's Honey Bakeshop, is definitely within that group. The girl literally turns cookies into edible works of art. But unlike more traditional baked good design, she paints on the actual cookies. Pretty unreal, right? Once I heard of what she was doing, I had to learn more. A few weeks back I had the chance to go behind the scenes in her Brooklyn apartment. Naturally, Sogi greeted me with coffee and fresh pastries (which I devoured). Hot coffee in hand, I proceeded to pepper her with questions on all things business, baking, and her skills as a painter. Learn how a quarter life crisis served as a source of inspiration for the business,  how she got to work with Martha Stewart last year and more after the jump!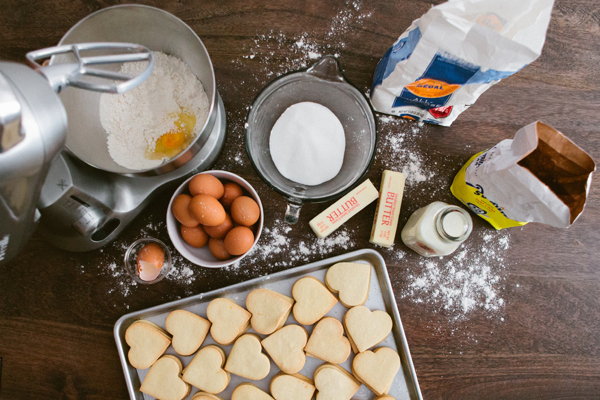 Where does the name Sogi's Honey Bakeshop come from?
I have always had a crush on the sound of the word "honey"—it sweet and delicate, a few attributes I aspire to in my own work! So when the time came to give these cookies a title, I slapped it in front of "bakeshop" and claimed it as my own.
Did you always know that you wanted to launch a baking business?
Nope! When I was growing up, I told my mom I wanted to sell my paintings in the streets of Paris. I'm not in France, but I AM selling my painted cookies in New York. And I'm not on the streets. So I'd still call this a win in my book.
Honestly, I still get a little startled when I step back and realize the entire ongoing progression. What started as a means of passing an afternoon of chardonnay and cheese with my good girlfriend is now a budding business. I could have never, EVER imagined my favorite hobby to evolve how it has. But I'm   b e y o n d   stoked that it did.
Which passion came first: painting or baking?
Painting. I've been drawing and (finger) painting since I discovered my opposable thumb, when I was 12.  Just kidding! I was at least 7…  At university, I was pursuing my Bachelors in Fine Art: Painting and Drawing , but couldn't seem to knock my itch to get into pastry, so I interned for a reputable San Diego bakery as I was simultaneously completing my senior thesis in watercolour. I fell in love with my work there and eventually made cake decorating a career for a few years.
My good friend and fellow cake decorator at the bakery, Jessica, had me over one afternoon after work to try out this cookie painting craft she saw on a blog. We popped a bottle of white, had some cheese, and started doodling on some cookies. I was instantly smitten and haven't stopped cookie-ing since.
After a quarter life crisis, I jumped to the east coast in 2012. I wanted to keep my baking and creativity afloat as I was entering the big bad corporate world of office life, so I started selling cookies on the side. It has essentially just snowballed from there!
Your cookies are literally like works of art! How do you come up with the decorating concepts and designs?
Everywhere. Literally. I'll fawn over store signage, the decorative trim on someone's stationary, the floral pattern of a blouse I can't afford at a boutique, you name it. Also, I pin the hell out of everything. That's a Pinterest reference—we're tight like that.'
The world of edible decorations for baked goods is so fascinating! Where do you buy your products? Which one are you favorites?
Whisk is theeee cutest kitchen supply store in Williamsburg, Brooklyn. If I'm not scouring the interweb for edible glitter, I'm usually in there stocking up on weird cookie cutters. Also, I've been using Wilton food coloring gels since…the beginning of time.
What's your creative process when it comes to creating a cookie for a client or event?
A lot of it comes from just talking to a client and getting a feel for what his or her vision is. Often cookies are given as gifts so a lot of the time, we end up having a great chat about the friend, boyfriend, or client's mother-in-law. After getting an idea of the recipient, I fine-tune any brainstormed images, typically sketching them out in my imagination, verifying inspiration photos on Google and then I just go to TOWN on the actual cookies!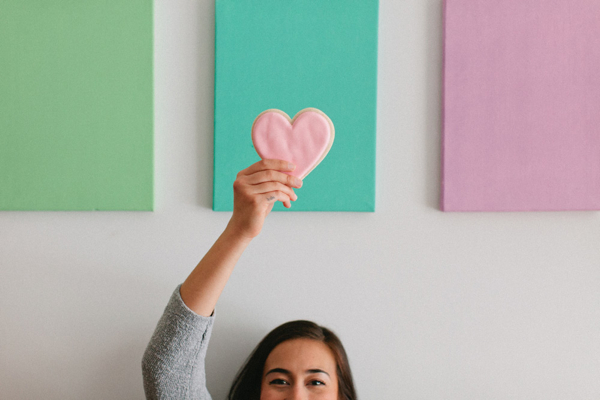 You worked with Martha Stewart Weddings last year. Tell us a little bit about that.
Martha Stewart Living had held onto my painting and baking portfolios for a job I applied to early last year. Come that fall, I receive an invitation to be an official vendor for Martha's annual Bridal Market. I pretty much keeled over in excitement. I joined the likes of world renowned wedding industry businesses for an whimsical night full of amazing food, talent and too much photobooth-ing! It was the best 350 cookies I've ever had to make!
Any big plans you can let us in on for Honey Bakeshop in 2015?
Sogi's Honey Bakeshop plans on taking over the entire world in 2015-one painted pastry at a time. And if that fails, I'm hoping that I'll at least be able to stretch my legs into a spacious baking studio somewhere in Brooklyn. Stay tuned for some exciting orders in the works!
Thank you so much, Sogi! Because I know you all are going to ask, you can place orders for Sogi's cookies at  www.sogoalzolghadri.com. I've got my eye on some of those really glittery ones for a friends upcoming bridal shower.  Yum!
Photography by Sasithon Photography