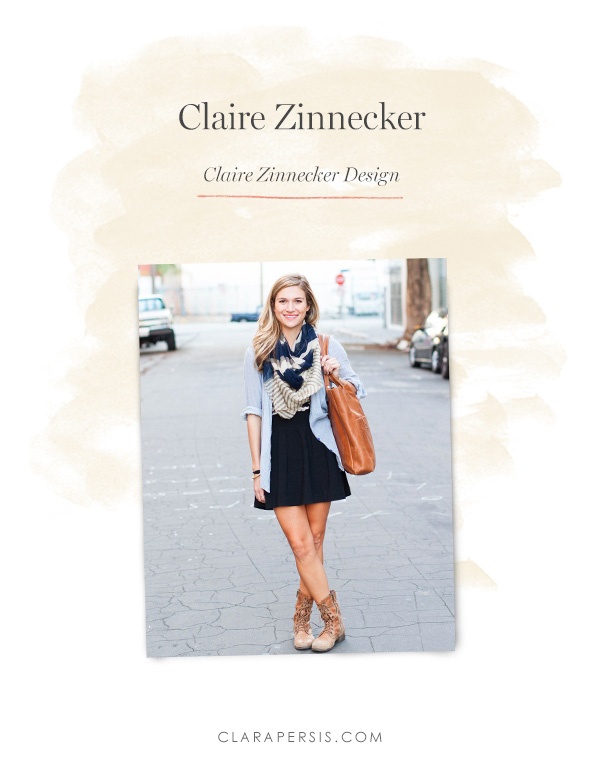 Little does Claire Zinnecker know, I developed a major girl crush years back when I was first introduced to her work via Camille Styles. As someone who posseses zero DIY skills, Claire's projects always had me wanting to run to Home Depot to snag a 2×4 and bucket of paint (you know… just in case!). The girl's got serious talent and style not only when it comes to DIY, but for all things interior design and décor. When she officially ventured out on her own, launching Claire Zinnecker Design last fall, I had to get the scoop! Claire was kind enough to share all the details on how she made the jump to self employment, what she did before to build up a client base and prepare for the transition, and the biggest lesson she's learned thus far in working for herself (hint: it's a good one). There's all that and more after the jump…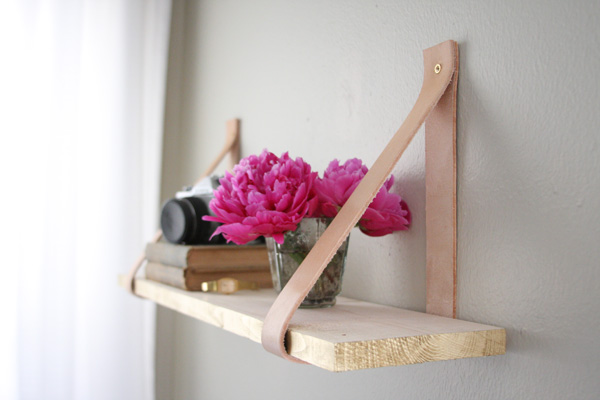 When did you launch your business? What were you up to before that?
Claire Zinnecker Design officially launched in September, before that I was working as the associate designer for One Eleven Design and blogging for Camille Styles.
Was there any way that you leveraged your time or job before you launched your business, to come closer to venturing out on your own?
I dedicated my free time to writing for Camille Styles in order to explore other forms of creativity. The photoshoots and the DIY projects allowed me to further establish my design aesthetic, create an identity for myself, and boost my confidence as a designer.
There's often no perfect or ideal time to make the jump to self employment. When was your "aha" moment when you officially decided to take the plunge and make the career switch?
I was already working nights and weekends to keep up with my freelance clients. The balancing act was wearing on me. Come November/December I knew the projects that were exhausting me should be the projects that allowed me to take that leap of faith and go out on my own. I couldn't keep juggling my full time job, my side clients, my friends, and my family anymore. I knew that opportunities would pass me by if I didn't take control and take the plunge.
Venturing out on your own doesn't come without financial anxiety and risk! What tips would you give to those looking to work for themselves to build in some runway and manage things financially as they build up their business?
I'm definitely still figuring this out for myself! When I decided to start Claire Zinnecker Design I was offered a part time position as a designer/project manager for a great hospitality company. This allowed me to have some stability while learning the ups and downs of self-employment. Paying someone, even for just a few hours, to help teach you about quickbooks, accounting, etc. is also really beneficial. Learn as much as you can at the beginning so you don't have to go back and learn from your mistakes. And log your client hours!!! Can't bill if you don't keep track of your time

How did you market yourself and your business in order to lock in those first clients?
I gained my first clients from my series on the blog, as well as from my following on instagram. Social media is such a great tool, not only to show others your design aesthetic but it also can connect you with other self-employed women in similar fields. Having that support is so necessary when you are in this period of learning and transitions.
Understanding there may be no 'typical' day, tell us about what your day-to-day looks like now…
Oh my, yes every day is different! Keeps me on my toes. Wake up (either by one of my six alarms or by my very persistent barking dog) around 7/7:30. I usually stay up late and dislike the mornings immensely. Start off with a cup of coffee and as many emails as I have time for (try to keep it to an hour or else you will get lost staring at your inbox all day). Meetings usually start around 9:00. After that I am in the car going, going, going - checking in on restaurants for my part time job, picking up samples, meeting with the upholsterer/contractor/painter. Grab a quick lunch (sometimes consisting of trail mix while driving), then more of the same. I try to spend an hour or two during the day to catch up/follow up on emails. Wrap up this part of my work day around 5 to 6 to go home and feed the pups. When I'm lucky I have time for a run, which is so good for my stress level. My boyfriend and I pick up a bite for dinner, then the evening is usually filled with follow up from client meetings + a little inspiration from pinterest, blogs, and online furniture shopping.
What's the biggest lesson you've learned in doing business for yourself? What's the one thing you'd tell anyone wanting to work for themselves?
Don't let the bumps in the road take over. I have so many moments where I freak out and wonder what the heck am I doing. I have to constantly remind myself that this insecure feeling does not last, and not let it take control. About that time I usually pick up the phone and call my mom, she's good at making me feel better. Having supportive friends/family/significant other is so so wonderful. Things will be scary but exciting, you are doing it on your own! Give yourself a pat on the back.
What are you most looking forward to this year?
Figuring out where I want Claire Zinnecker Design to go next! My 2013 New Years resolution was to take the next step in my career, which I did. This year it is to fine tune what Claire Zinnecker Design means to me, where I want it to take me, how I want to use it to make me a better designer and a better person.
Best way to unwind after a stressful day: Run, cuddle with my pups, discuss my day with my boyfriend (and hear about his day)…oh and ice cream!
Currently on your bookshelf: Most recent issue of Elle Decor & Domino Mag
Lean In by Sheryl Sandberg (recommended to me by a dear friend who is also starting her own business)
Head shot by Joanna Pio, Interior Photos by Kate Stafford