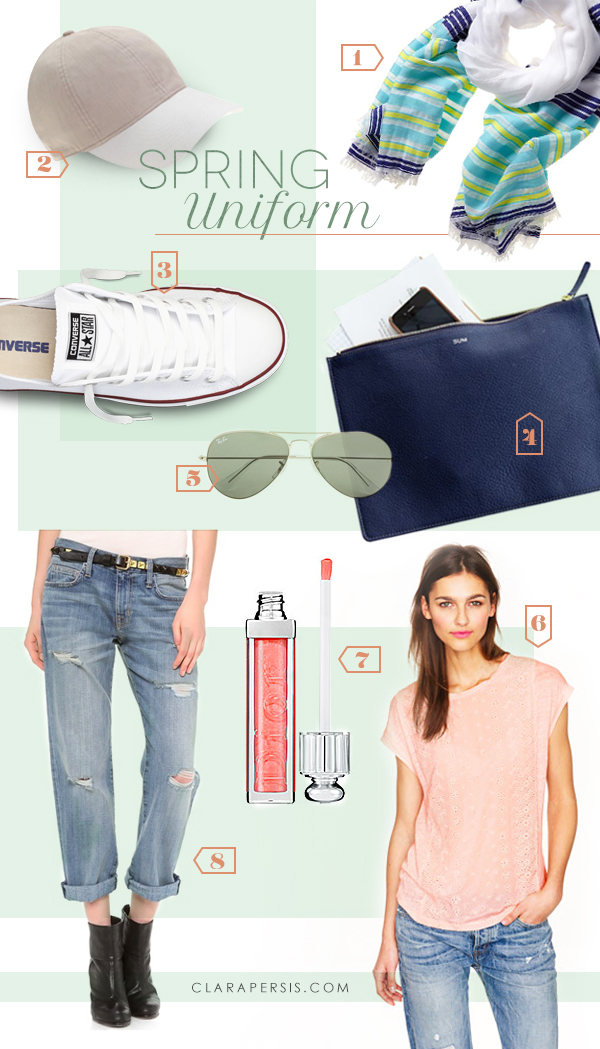 Ok so it may have dipped down into lower temps on the East Coast over the past few days, but the sun is still consistently shining, making me crave a solid spring look. In light of that, I've rounded up the eight items on most frequent rotation in my wardrobe across April and May:
1. I tend to stray towards overall neutral looks, so  like to infuse my outfit with a pop of color with accessories. This scarf is the perfect example, and also serves the dual purpose of keeping me warm when the sun goes down.
2. My love for baseball hats is somewhat ironic since I have absolutely zero interest in baseball (or sports in general), but I love the look of them! J.Crew makes some of the best.
3. I loooove my white Chuck Taylors- perfect for giving a relaxed yet chic vibe to any outfit. I tend to buy a new pair each season to keep them as fresh looking as possible.
4. I fell in love with the look of this Gentleman's Folio as a clutch from Kat's brilliant post. Now that many of my work meetings are later in the day (thanks to more sunlight), it's such a great piece for transitioning from work to play mode.
5. I firmly believe every girl should have a solid pair of aviators- not just for spring, but any season. Instant cool girl vibe.
6. A breezy linen tee with a slightly swingy fit.
7. In the warmer months I tend to shy away from lipstick and simply sport a coat of gloss. I love this shimmering coral  shade from Dior, and this particular brand of gloss glides on better than any other brand I've tried!
8. The most amazing boyfriend jeans out there (I swear!). And the best part? They're 25% off on Shopbop's friends and family sale through tonight!
What's on your spring wardrobe list?