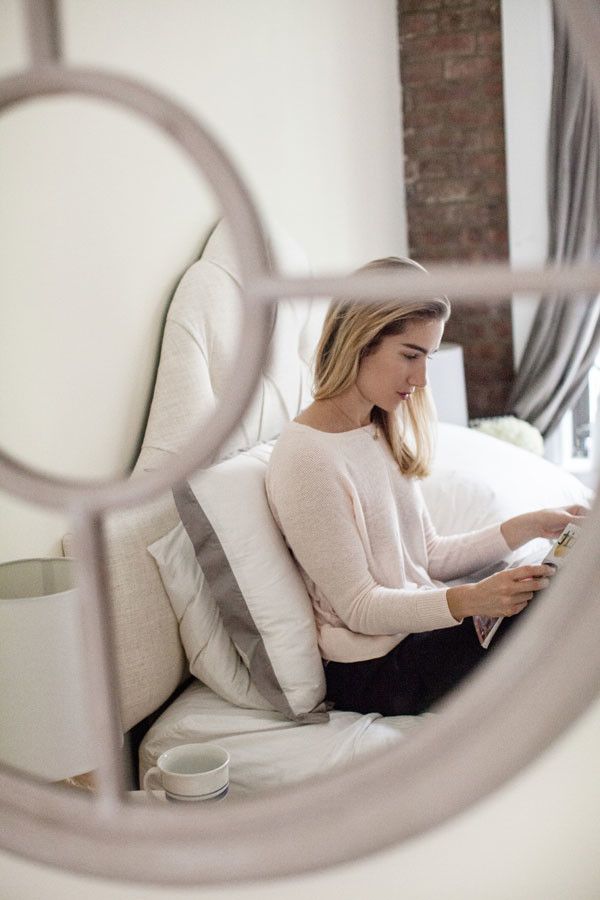 I'm so incredibly grateful for the winter we had this year. It's the first time in years that I haven't felt completely beaten down by it all come March. Granted, the winters of 2014 and 2015 were emotionally bleak times, too, which definitely made the cold temperatures even worse. But either way, it felt so good to be able to revel in the season. Rich dishes. Hot fires. Belly-warming glasses of red wine with good friends. I'm almost sad to see it go!
Even though mother nature was easier on us this year, I can't help but wonder if my happy mood has less to do with the actual weather and more so to do with me. In the last few years I've gotten really present to the seasons of my life: seasons of emotional growth, seasons of professional stability, seasons of new beginnings….the list goes on. In becoming more aware of these seasons, it's also clarified the control I have over them. Sometimes they're seasons we're forced into caused by unanticipated events, but there are also times where we can exercise a sizeable amount of control. Where we can create the actual season of our life.
At the beginning of this year, when I sat down to reflect on 2015 and set my intentions for the 12 months to come, there was one word that kept coming up for me. Play. I wanted 2016 to be the year of play, of pleasure, of making having fun my priority. It's not that previous years weren't fun. But there was something in me that felt pulled to have play, play (no pun intended) a bigger role in my life this year. That translated into releasing a lot of goals and expectations. I'd work hard this year, but wouldn't make professional advancement  a top priority. I'd eat well and make movement a daily ritual, but not strive so hard for that "perfect figure." I'd operate from a place of what felt good, versus what I should be doing. In a way, I wanted to drop all the "shoulds" this year.
I kind of assumed this shift in mindset would make for a less prolific year on certain fronts. In particular, my career. But the ironic (or perhaps not so ironic) part has been that I've actually experienced so much abundance. More opportunity. More exciting opportunity. More work that aligns with my values. I'm in awe of some of the things the world has dropped in my lap in the first two months of the year.
The other key thing that's been guiding how I approach this year is the manifesto we wrote for the podcast. They're 8 statements that serve as the foundation of our podcast content, and also my life. I like to say they're affirmations and aspirations all in one; they're things I strive for on a day-to-day basis, and also things that pretty much guide each and every decision that I make.  This means I believe in :
Showing up
Doing the work
Choosing love over fear
Striving for simplicity
Daring to be vulnerable
Asking the big questions
Letting my heart do the talking
Treating myself like gold
In Episode Six of the podcast we break down what each of these eight things mean specifically and how we apply them to our daily lives. The best part is that we actually created a super simple toolkit to incorporate this manifesto into your own life. It's designed to help you get clear on who and what matters to you. I deeply believe that when you get really clear on what matters in your life, you'll have a much easier time charting a course for the life you want to live.
In fact, I feel like I'm living proof. Even though I'm focused on play, above all, I feel like I'm really living the life I want to live in 2016. That doesn't mean it's a perfect life. That doesn't I'm always happy. That doesn't mean I have all the things I want. It just feels really right for me. I don't think I've ever felt so good in my own skin. And really, is there anything better? xx Clara
//P.S. If you haven't listened to the podcast, we've already got 10 episodes live! We've covering everything from dating to managing expectations in long term relationships, five key steps for getting a big project off the ground, and so much more. Find it on iTunes right here. If you have feedback or anything specific you want us to talk about, shoot me a note at [email protected] Would love to hear from you!//