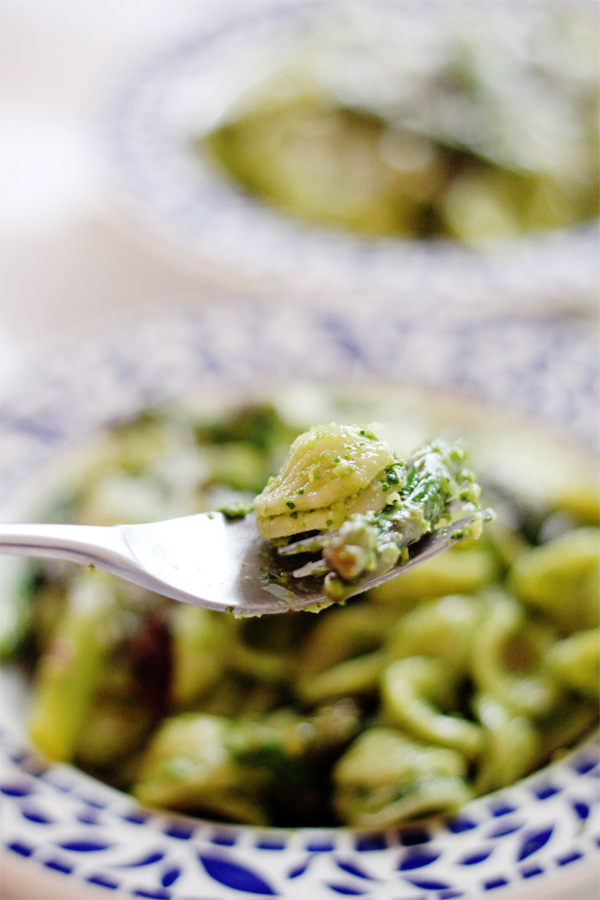 Double recipe for you guys this week! Get into it. I've teamed up with some of my fave blogger gal pals to bring you a round of spring inspired recipes. I went green on green with my dish, with the inclusion of kale and asparagus. Have you guys ever made kale pesto? It's legit. Definitely heartier than the basil or arugula version, but I love the extra bite. Orchiette also happens to be one of my absolute favorite pasta cuts for its darling shape and serious ability to hold a sauce, so it's perfect in this dish. Soaks up all that delicious pesto! And lastly, cause ya'll know I love a recipe that can be made ahead, this one can be served hot or at room temperature. Spring entertaining at its best.
Be sure not to miss the other gals incredible recipes below!
Lemon Petit Fours from House of Earnest
Stawberry Paleo Ice Cream from Lemon Stripes
Pea, Pistachio, and Mint Pesto from vmac+cheese
Strawberry Avocado Tacos from The Average Girl's Guide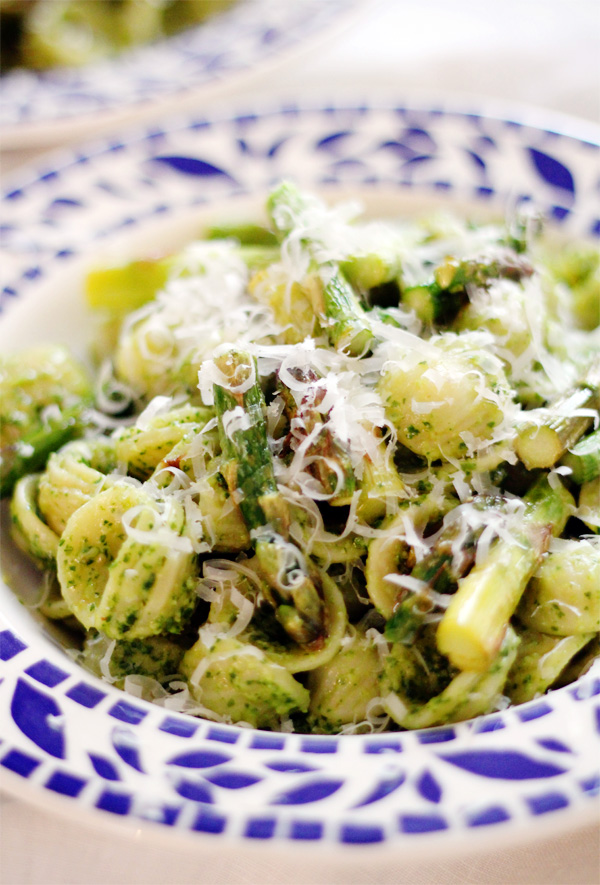 For the pasta:
1 lb. orchiette (or any short cut pasta)
1 bunch asparagus, ends removed and cut into 2 inch pieces
olive oil
juice of half a lemon
salt and pepper
For the pesto:
4 cups packed curly kale, roughly chopped and ribs removed
1/3 cup walnuts, toasted
1/2 cup olive oil
1/2 tsp salt
1 tablespoon lemon juice
1 garlic clove, crushed
1 cup grated parmesan cheese, plus more for serving
freshly ground pepper to taste
Set a large pot of salted water to boil.  Once boiling, add in the orchiette and cook until just al dente- generally 10 to 11 minutes for Orchiette. Reserve 1/2 cup of pasta water before draining.
Make the pesto: Place all of the pesto ingredients in a food processor and blend until smooth and fully incorporated. Taste and add more salt, pepper, or lemon juice if needed. Set aside.
While the pasta cooks, set your oven to broil. Line a baking sheet with tin foil and spread the chopped asparagus in an even layer. Drizzle with a little olive oil, lemon juice, salt and pepper. Place under the broiler until slightly browned a crispy- about 5 to 7 minutes. The asparagus will still be quite al dente.
Place the cooked pasta in a large bowl. Add in the pesto and 1/4 to 1/2 cup of pasta water and stir well to combine. Add in the cooked asparagus and toss gently. Season with flaked sea salt (or just regular sea salt) and more cheese. Serve immediately.